A physician electronic management system can be a Doctors best friend and business partner. The tedious and time consuming paper work required to practice medicine today in America can be daunting to say the least. Today the physician practice software that is available by EZ Healthcare makes practicing medicine fun again. This software is named EZ Office Suite. This proprietary physicians software offers everything a Doctor needs to successfully practice medicine in the United States. It is even HIPAA compliant.
What other features do you need or want in a Doctors practice software system? Let's start at the beginning. You obviously need an appointment scheduler. A custom scheduler is even better. EZ Office Suite has that included into this software system. A patient communication system is certainly another desirable feature. EZ Office Suite includes that as well. In fact it offers telephone, letter, email, text, and a patient portal. You will be able to communicate with your patients the way they prefer.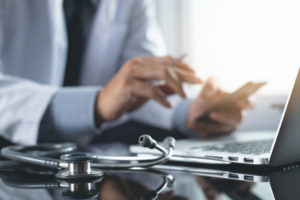 EZ Office Suite is a physician electronic management system that is fully functional and totally customizable to meet your individual needs as a Doctor. This integrated software allows for sections to be turned off or on as you prefer. You get to select how you use the software.
Billing is clearly an important part of any physician electronic management system. If you can't get paid it diminishes your medical effort. EZ Office Suite even is equipped to work with Insurance Companies. This includes Medicare and Private Insurance alike. You will be able to accept Cash, Checks, Credit Cards, & Electronic Fund Transfers as well.
It is important that this software system designed for a Physicians Practice be easy to use and easy to learn. A lengthy training program is NOT required for EZ Office Suite. Basic computer skills is all that is required. The learning curve is very easy and very short to learn!
EZ Office Suite is a physician electronic management system that also comes with the finest Electronic Health Records (EHR) system within the industry. It is truly second to none!
If you want the best for your Physicians Practice then Contact Us Today. We would be pleased to offer you an in office demonstration of EZ Office Suite. What have you got to lose? The time for a demonstration. On the other hand you probably have everything to gain! Including medical practice efficiency and effectiveness. Your staff will thank you for a physician electronic management system that makes their job easier.