Computers are everywhere and so common that it seems odd to think about doing something that does not involve a computer somehow. Think about it. This certainly applies to the healthcare system in the United States as well. Computerized health records or electronic health records (EHR) exist at nearly every healthcare facility today as 2020 approaches. The internet has made it easy to access these records for appropriate and approved businesses. Life and death decisions made by doctors can be impacted by the knowledge that is learned from these computerized health records.
In fact, these computerized health records have revolutionized the way medicine is practiced all over the world. It is important for a Doctor to know as much about you and your past as possible. Where you have lived, occupations, recently visited places, and past diseases are the types of things that we don't think of as medically important. The Physicians of the world know differently. They are also interested in what medications you have taken and are currently taking.
Access to Health Records is Important
Information can make the difference in determining a correct diagnosis for any set of symptoms. Therefore, these computerized health records become an essential part of today's medicine. The sharing of this medical data was and remains the essential reason for being able to conveniently access these records in the first place.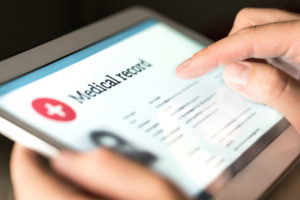 EZ Healthcare has proprietary software that is rapidly becoming the industry standard for computerized health records. With offices in Utah and Louisiana they offer free demos of their software products that impress everyone who views the demonstration.
HIPAA compliance is everywhere within the healthcare industry. It has spilled over into the rest of the business and financial world as well. Information, especially personal information is a very valuable commodity today. Every day folks like you and me have little interest in this data. There are, however, unscrupoulous entities and individuals who will use this data for illegal purposes.
Make sure that whatever electronic health record system you select that it is HIPAA compliant like all the products that EZ Healthcare has to offer.