One of the benefits of doing business with EZ Healthcare is the availability of immediate service support. They respond to programming requests, offer 24/7 tutorials and phone support. EZ Healthcare is deep into healthcare software industry. Their support team has been part of their proprietary software development. They are familiar with not only the relevant technology, but also the non-technical issues that can cause costly problems and delays in a healthcare practice. EZ Healthcare's support team is dedicated to keeping Doctor's Office Staff safe from these problems. When government standards change, you can rely on EZ Healthcare to be proactive. They will provide the latest software updates, training, and follow-up support to keep those changes from disrupting your practice.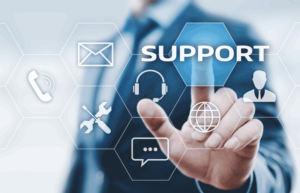 As a nimble, physician-focused company, we provide ongoing support as needed. When you are ready to use advanced features, or when new staff members join your practice, contact us for a training update. In many cases, this training can be provided over the phone and/or the web. The support we provide will be at your convenience not ours. We understand your business.

Click on the above link for EZ Healthcare's SCREEN CONNECT webpage for remote online support. Once you grant permission, one of our support technicians will be able to directly access your computer system and address your support need.
A login user name and password or an invitation code is required to use this service. If you do not have this information, please call or email our technical support center to arrange it. We will be happy to assist you.
For fast and easy access to EZ Healthcare Product Support please call (888) 731-5530 or email our technical support center at support@ezhealthcare.com. We will be happy to assist you.